A Tip on a Sailing Holiday in October: From Marmaris to Datça in Turkey
Turkey has more than a few attractions for yachtsmen. Firstly, there are beautiful bays lined with forests and wonderful beaches waiting for you. Secondly, only rarely will you find such a charming mix of historical monuments from the times of the Roman, Byzantine and Ottoman empires. And thirdly, nice weather sticks around here for a little longer, so October is still a perfect month to come in here. Today we have chosen for you a cruise from Marmaris, where the sea is still wonderfully warm even in October, and the weather is also a few degrees warmer here than in Bodrum. What awaits you on the route between Marmaris and Datça?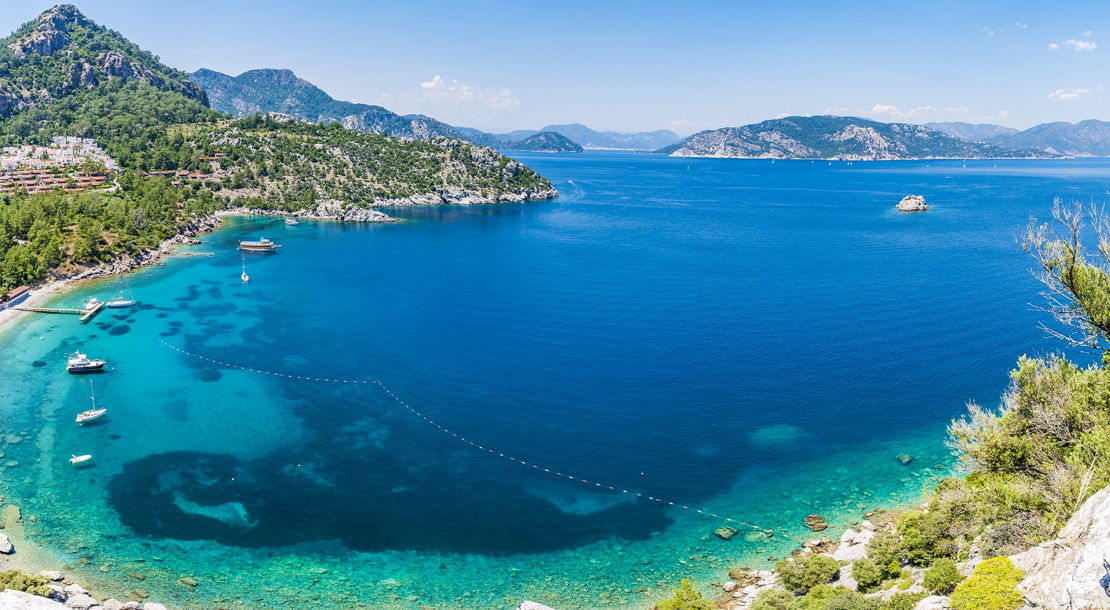 The fact that Turkey forms an imaginary geographical and cultural bridge between Europe and Asia is evident in every step. In addition to sights, you will also find great restaurants, traditional Oriental bazaars and extremely hospitable people here. For visiting yachtsmen, Turkey has perfectly equipped sheltered marinas readily available and many bays with beautiful beaches lined with small restaurants and shops at hand. What is more, if you want to stay here for more than a week, you can also visit one of the nearby Greek islands, such as Kos or Rhodes, during your sailing holiday.
Today we have directed your yacht westward from Marmaris to the Datça Peninsula, about 100 kilometres away. That is to a place still unaffected by overtourism, with beautiful nature and lots of secluded beaches, where you can spend days undisturbed!
To the West of Marmaris
Marmaris alone is a resort full of tourist complexes, bars, restaurants and nightclubs, which are worth a visit but you do not have to stay there too long. You can enjoy your first "bath time" just round the corner, in the clear waters of a beautiful beach in the bay of Turunç lined with cliffs. You can also have lunch or dinner at one of the waterfront restaurants. Or try the famous beaches in the little towns of İçmeler or Kumlubük! Then you can then spend the night for example in Kadirga Bay as its three bays offer maximum privacy.
Another stop can be the small circular bay of Çiftlik, where the sea is warm and clear, making it ideal for snorkelling fans. Or would you rather explore the little uninhabited island of Arap Adasi? The sea between the mainland and the island is relatively shallow, the maximum depth is six meters, so it is a great place suitable exactly for swimming and snorkelling.
Then you can stay overnight in the Serçe Limanı Bay, where the yachtsmen have a marina at their disposal, and you will also find a restaurant and a buffet between olive trees. Or move on a bit and drop anchor in a bay named after the ancient Greek city of Loryma. Today it is also called Bozuk Bükü. On the shores of the bay you can admire, for example, the ruins of an ancient fortress. Of course, you can also make a tour of the remains of the ancient city or dine in a great local restaurant!
Following in the Footsteps of Instagram
The next stop on our voyage is Bozburun, which boasts a magic harbour. This town is inseparably linked with shipbuilding; the construction of traditional wooden gulet yachts is the main industry here. But it is also worth noting the local thyme honey, famous throughout Turkey, which is also suitable as a souvenir or gift for friends at home.
Our cruise continues to the beautiful bay of Dirsek Bükü. The local waters form a kaleidoscope of various shades, which you will best appreciate when you take a walk along the surrounding hillsides. In the water you can also see the remains of an ancient waterfront that is now sunk beneath the sea. You will also find a restaurant in the bay.
Do you follow travel accounts on Instagram? Then you definitely know the fishing village of Selimiye! The local nature is beautiful, with a clear blue sea, and even if the place is not abundant in beaches, be sure to stop here. Stroll around the village, have fresh fish at the Sardunya Restaurant, have a coffee at the Paprika Café, and if you like desserts, be sure to try the traditional delicacies made from goat milk at the local Losta Tatlicisi patisserie!
A Place Where God Sends His Loved Ones
Datça, the destination of our voyage, lies on the peninsula of the same name, not far from the remains of the famous Greek ancient port city of Knidos. The peninsula offers many bays and ports, which makes it very popular among yachtsmen. As regards the town of Datça itself, its social life is concentrated in the alleys lining the waterfront. Here you will find restaurants, bars, cafés and shops, where you can buy fresh fruit and vegetables, honey, olives or almonds in addition to souvenirs.
The above mentioned Knidos is definitely worth a visit too. According to the Greek philosopher and historian Strabo, it was built for Aphrodite and God sent his favourite people to live long and well there. You can still see the remains of a round temple dedicated to the Greek goddess of love, fertility and beauty in Knidos today, as well as, for example, the ruins of an ancient amphitheatre.
Did we manage to lure you? It's never too late for a yacht vacation!
Photo credits: Shutterstock.com
Would you like to go sailing with us? Drop us a line!
Read more articles