Are you an explorer at heart? These 3 places in Croatia will take your breath away!
If you wish to explore interesting sights while on a pleasure cruise in Croatia we have three great suggestions for you. One of them is the wondrous bay in Zavratnica where you can dive and observe a World War II German shipwreck on the sea bottom. Afterwards, we will take you to a small island called Galešnjak which is the true heart of Croatia (thanks to its shape)! Finally, we will head to the famous beach in Sakarun cove on Dugi Otok island.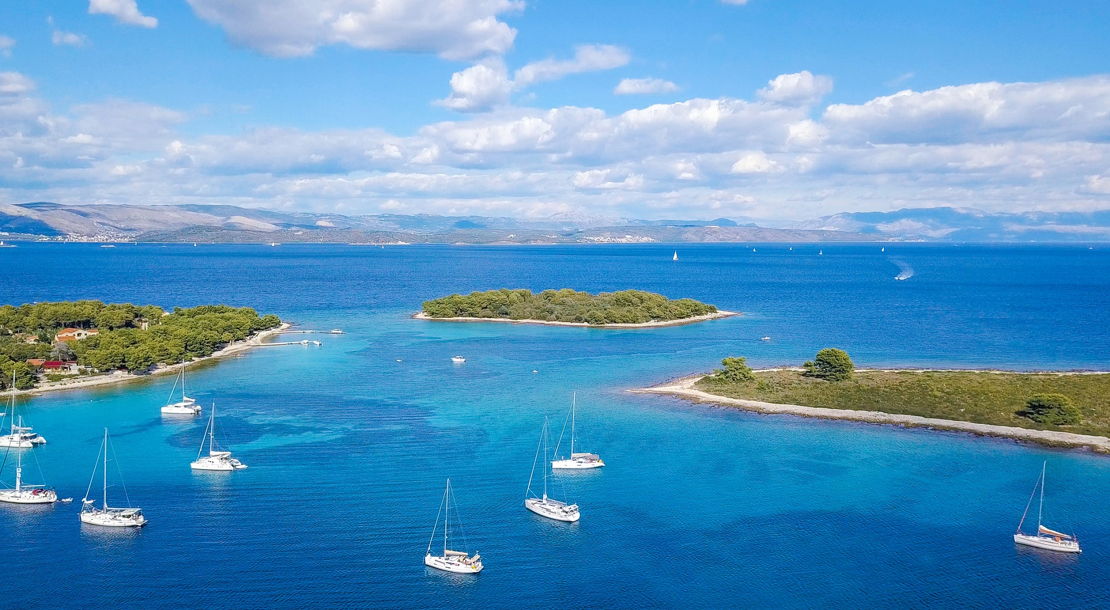 Zavratnica Bay: Can You Find a Treasure?
This breathtaking bay is on the shore, directly opposite the island of Rab (near the village of Jablanac). The bay is rather narrow, about one kilometer of its length meanders towards the inland, surrounded by imposing up to 200 m tall rocks of the Velebit Range. It is ideal for swimming in the calm sea without waves as well as for snorkeling! The largest attraction for all divers is a German shipwreck which was sunk by the Allies during World War II. Unlike other shipwrecks which are dozens of meters deep, this ship is found just a few meters under the surface, so it can be explored just with a snorkel and flippers. No surprise it is so popular with children! What if they found an old treasure after all? We recommend anchoring your ship in Zavratnica either in the early morning or later afternoon when the place is the least busy.
Galešnjak: The Heart of Croatia!
It is found between Zadar and Biograd na Moru in the Pašman Channel. When seen from a bird's eye view, the island's nearly perfect heart shape is revealed! This is why Galešnjak is nicknamed Lovers' Island or the Island of Love. This tiny natural miracle is uninhabited, but its owner, Mr. Tonči Jureško, allows small weddings to take place here. If engagement or wedding is not exactly on top of your priorities list, you can still enjoy a wonderful walk in the enchanting environment (Besides wild plants and trees there are olive trees which were planted by the Jureško Family several years ago.), or spend a day on the sandy beach washed by crystal clear water.
Sakarun Cove
and the Famed Beach
This cove, which is not far from Galešnjak is Dugi Otok island, boasts one of the most beautiful beaches in Croatia. Nested in the open Sakarun Cove, this beach attracts most yachters in the early evening when visitors have returned to their inland accommodations and the yachters standing on the deck can feast their eyes on the spectacular sunrays playing with the aquamarine hues on the sea surface. Sakarun is an ideal place for families with children. The pebble beach is 800 m long, its surroundings are calm (There are no built-up areas for miles.), the water is crystal clear and the sea is shallow with a sandy bottom, so parents do not need to worry about their kids getting hurt there. The pine forest alongside the beach provides a pleasant shade during the hottest time in the afternoon. Next to the beach there is also a restaurant.
Foto Shutterstock.com
Would you like to set off for Croatia with us? Write to us!
Read more articles