Do you hate saying goodbye to summer? Then get away and spent the winter on a yacht!
Even though the yacht season in Europe has ended, there are still plenty of beautiful destinations to visit all over the world, where you can enjoy sunshine and the wonders of the sea all winter long. We've chosen five perfect places where you can go to warm up and relax or even go and celebrate Christmas!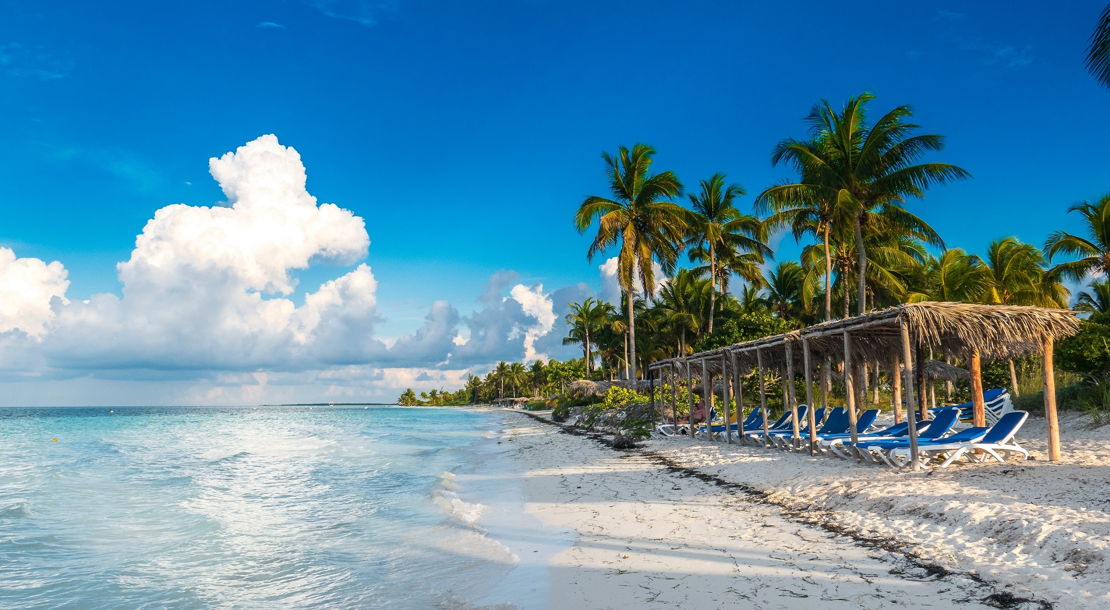 British Virgin Islands
The British Virgin Islands belong right at the top of popular first-class yacht destinations primarily thanks to the ideal conditions they offer both on land and by sea. The British Virgin Islands are made up of a string of more than fifty islands and islets, which makes navigating at sea easier and it's here you will find well-equipped and protected anchorage ground. Around the islands, the Atlantic flows from the north with the Caribbean Sea from the south, and the Sir Francis Drake Canal stretches through the middle. Also, there are constant winds that help keep the weather warm all year round. The idyll is topped off by the crystalline blue water, white beaches lined with palm trees and renowned bars, shipwrecks resting on the ocean floor and picturesque little villages with restaurants offering French-Caribbean cuisine.
Be sure to make a stop on Virgin Gordan island, where you will be immediately greeted by a number of national parks and nature reservations as well as the famous 'The Baths', a group of granite boulders that create mysterious caves and saltwater pools just off the coast. Scuba divers will then find their own personal paradise on Anegenda island, which surrounds the wonderful coral cliffs, including the Horseshoe Reef, the third largest coral reef of the eastern Caribbean. And you'll find the best restaurants on Jost Van Dyke island as well as great shopping on Tortola.
Best time to visit? December to June!
Martinique
You'll also find beautiful beaches, hospitable people and great food on Martinique, which is part of the Caribbean archipelago of the Lesser Antilles and can be found nestled in between St. Lucia and St. Dominique. Here you'll enjoy the European influences (Martinique is a French overseas department) and, of course, rum! Flower enthusiasts will be right at home here on Martinique as they find themselves surrounded by the island's lush tropical vegetation, or by taking a trip to one of the many botanical gardens to admire the greenery.
Also be sure to make a trip inland to check out the Mont Pelée volcano from which flow a number of waterfalls, or go for a walk around the banana or sugar-cane plantations. Interesting gourmet experiences await you in the small fishing villages untouched by tourists, and you can even go for an excursion in one of the many rum making distilleries. Plus, you can also sail from Martinique south to visit other islands - the private islands of Mustique, St. Lucia, St. Vincent, Union Island or Palm Island.
Best time to visit? December to April!
Cuba
Ernest Hemingway loved it here and you will too! Most yachts sail out of Cienfuegos and head to the predominately less popular archipelago of Canarreos. Here you can soak up some sun on the beautiful beaches or, alternatively, listen to some music, go dancing, go rum tasting or smoke cigars on the charmingly little islands of Cayo Rosario, Cayo Rico and Cayo Largo. Also, there is old-timey colonial architecture for you to discover in the cities (such as Havana, Trinidad, Cienfeugos and Camagüey which are protected UNESCO sites) and vintage American cars. You can visit this, the largest island state in the Caribbean, which is made up of over 4,000 island and islets, all year round.
Best time to visit? Any time of the year!
Malaysia
The Langkawi string of islands in south-west Malaysia is a very popular destination for many reasons, one of them being that from here you can go on trips to islands in Thailand that lie close to the Malaysian boarder. Aside from that, in Malaysia you will also find untouched beaches, rain forests and jungles, which are the home of many plants and animals that can't be found anywhere else in the world. With these natural wonders aside, Langkawi is also world-renowned for its snorkeling and scuba diving locations and fantastic cuisine. Plus, Malaysia is a duty-free zone, so should you find yourself craving a more 'consumer'-type experience then you'll love the country's unlimited shopping opportunities.:-) And if your island hopping trips to Thailand don't quite cut, we would also recommend the one way voyage from Phuket to Langkawi.
Best time to visit? January to March!
Seychelles
If your idea of an ideal vacation includes the pictures from postcards boasting views of turquoise waves, whitewashed beaches and palm trees flowing in the wind, then make your next trip to Seychelles! You'll never find another place on earth like this. This string of islands, that lies in the Indian Ocean just east of Africa is made up of smaller islands, and each one is unique in its own way. Every type of traveller will find what they're looking for here, from those who love the beach, swimming and snorkeling to enthusiastic hikers who are happy to go on trips deep into the jungle. On Curiesuse Island you can watch giant sea turtles as they swim about, La Digue contains the amazing national park Anse La Reunion, you can go snorkeling with sharks on Cocos Island... And so much more! Plus, you'll have the advantage of going by private yacht, which means you'll be able to see anything and everything you want at every dream location!
Best time to visit? Ideally from February to April, but it's beautiful here all year!
Would you like to escape winter with us on a yacht? Then send us a message!
Read more articles