Family vacation on a yacht? We have tips for the best cruises in Croatia and Greece
Would you like to provide your family with a safe but unforgettable vacation this year? At the time of the restrictions associated with the coronavirus pandemic, this is more difficult but not unsolvable. The safest form of vacation remains sailing on a yacht. You spend it in the privacy of your own boat, just with your family or friends. Plus, you can buy it for about the same money as a hotel vacation. Which routes in Croatian and Greek waters are best for a family cruise with children?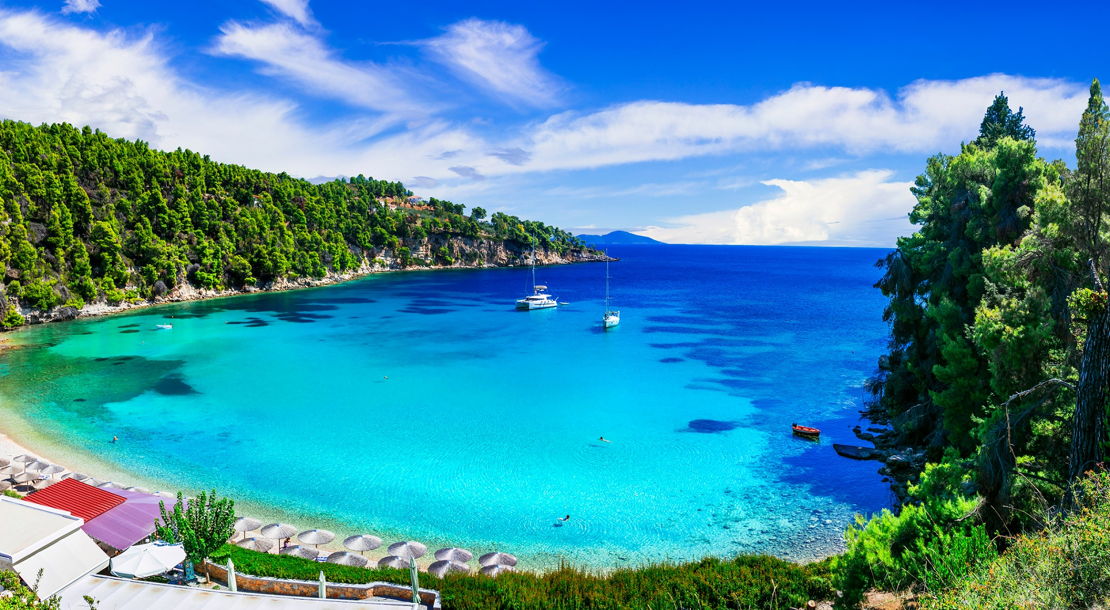 During a week-long voyage, you theoretically don't have to come into contact with anyone except your own family (and your captain), nor do you have to touch the feet of the mainland. Or you can not only enjoy the boat and all the pastimes it offers, but you can also go for walks on the islands, visit the beach bars and restaurants and let the children drive in the beach clubs.
For a family cruise, we would definitely recommend a sailboat or catamaran equipped with water toys, such as paddleboards, water wake, towing rings or auxiliary jet boats. Snorkels and diving equipment are also highly recommended. Children also love the nets that are stretched on catamarans between the two hulls. They can spend hours on them!
In today's article, we bring you tips on five cruises ideal for families with children. In each destination we have a number of boats available in different price ranges, but for an example we will always add one date and price for each cruise. If you are interested in the cruise, do not hesitate to contact us, we will be happy to design a boat according to your financial possibilities, number of people and the date of the vacation.
Croatia: Split/Trogir - Solta, Hvar and Vis
If you are sailing with smaller children, we recommend a cruise with short rides, which will offer your children a lot of experiences and activities. After all - smaller children will appreciate the many hours of open sea views during long voyages much less than adults. You can try, for example, a proven cruise around the islands of Solta, Hvar and Vis. You can rent a yacht in Split or Trogir, and during the week you can perfectly explore the popular Croatian islands and their surroundings.
Each one is a little different. Solta or Vis offer more peace and privacy (You can learn more about Vis in our article Beautiful beaches, calm and great wine? This is exactly what the Croatian Vis offers), Hvar has a beautiful historic center. And on all of them you will find a lot of beaches, coves, where you will have enough privacy, or, on the contrary, there are rentals of all kinds of water toys waiting for you, as well as shops and quality restaurants.
Boat tip: MY 44 (can accommodate up to 6 people), week from June 26, 2021: EUR 11,799
Croatia: Trogir - Dubrovnik
But if you want to see more during the weekly cruise, we recommend the so-called one way cruise. You rent a boat in one marina and return it at the end of your trip in a completely different port. You can try, for example, one way from Trogir to Dubrovnik. You can make a stop on the islands of Solta and Brac, see the historic center of Hvar, buy great red wine on the Peljesac peninsula or enjoy the beautiful nature of the island of Mljet. You will see that you will bring a lot of beautiful experiences from this cruise. It is no coincidence that we dedicated an entire article to this cruise in the blog called Do you want to enjoy Croatia to the max? Set off for a one-way cruise from Trogir to Dubrovnik!
Boat tip: Lagoon 40 (can accomodate up to 8 people), week from June 12, 2021: EUR 4399
Croatia: Dubrovnik - Mjlet/Korcula
Do you like nature and would you like to combine a vacation at sea with walks on land? Mljet is exceptional among the Croatian islands - 72 percent of its area is covered by forests, which makes it the greenest island in this coastal country. You can spend a few days cruising around Mljet. You can take trips to one of the caves (for example Odysseus or Movrič), and definitely also to the Big and Small Lakes. There are many hiking trails on the island, as well as beautiful beaches. Want to know more? Read the Mljet article: The green pearl of Croatia. And when you get enough of peace and greenery, sail to neighboring Korcula, whose historic center is beautiful!
Boat tip: Oceanis 48 (accommodates up to 10 people), week from September 4, 2021: EUR 3590
Greece: Ionian sea
Would you like to take the children on a yacht to Greece? The Ionian Sea is the right choice! The area around the islands of Lefkada, Kefalonia and Zakynthos is famous for its calm sea and mild winds, making it ideal for a relaxing, family cruise. In addition, although there are excellent yachting conditions in Greece (including marina facilities and yacht service), it is more affordable than many other Mediterranean destinations.
While sailing in the Ionian Sea, you can choose from dozens of secluded coves with beautiful beaches. The sea is warm, the marina is mostly free and typical Greek taverns are simply heavenly. The islands in the Ionian Sea are greener than most islands, which promises pleasant walks overland, and of course you will find a lot of ancient and Venetian monuments there.
Boat tip: Oceanis 41.1 (accommodates up to 6 people), week from August 21, 2021: EUR 2565
Greece: Sporades
Do you prefer the Aegean Sea? Then we recommend Sporades. The starting point of the cruise is the island of Skiathos. Does it sound familiar to you? Of course, the famous film Mamma Mia was shot there and on the neighboring island of Skopelos! Sporades attract families with children with conditions similar to those found in the Ionian Sea - especially the local bays and beaches are not crowded, so you will enjoy a lot of peace and privacy. And then, the islands are well protected from the north wind, which promises a peaceful voyage. But the rest is quite similar - lots of coves, beautiful sea and beautiful beaches, nice people and sensational food.
Boat tip: Lagoon 42 (can accomodate up to 8 people), week from July 10, 2021: EUR 5790
And if you need more arguments for a yacht vacation, you can find them in our older article Safe vacation by the sea? Take a boat this year!
Do you want to go on a yacht with your family? Write us!
Read more articles