Five Reasons to Spend Your Honeymoon on a Boat
Organizing a wedding takes a lot of time and effort. It's no wonder that many couples are craving a peaceful honeymoon after spending months planning and organizing their big day. Ideally, they want a honeymoon that's organized by someone else and where they don't have to worry about anything at all. That's exactly the kind of holiday that awaits you aboard a luxurious yacht with its own crew! Still not convinced? Here are five reasons that just might change your mind.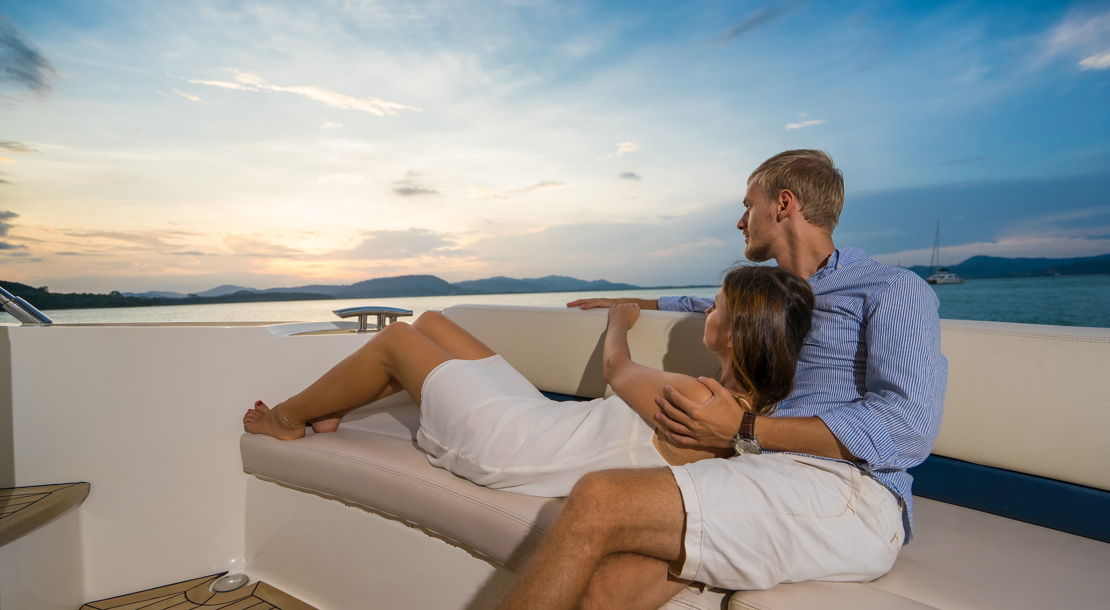 1. All-inclusive service for food lovers
You will have your own personal chef at your disposal during your entire honeymoon. He'll prepare delicious gourmet meals and mix your favourite drinks. We'll contact you before you set sail so that we can get as much information as possible about your favourite foods and specific requests you may have. All you have to do then is come aboard and begin enjoying yourselves. Your chef will shower you with fresh delicacies and cocktails.
2. Many fun and interesting activities
Snorkelling in the crystal clear waters along the coral reefs, a huge variety of water sports, walks on the coast, swimming in remote bays, watching the sunset from a small beach bar.... these are just some of the many activities and experiences that you can enjoy. You just have to pick a destination that you want to visit and we'll be happy to recommend the most interesting sights that you shouldn't miss on your voyage.
3. Privacy
The crew is very discrete but can also be helpful if need be – it all depends on what you need. If you feel like chatting or need advice, our staff will be fully at your disposal and will be happy to spend some of your holiday with you. They're just as happy to keep out of your way and give you absolute privacy. The crew have their own separate cabin on the catamaran so you don't have to worry about being disturbed. It often happens, however, that many of our guests become so friendly with their crew that they end up hiring them for their future voyages!
4. An experienced captain always on hand
It is one thing to explore a new country on land but the sea is a another challenge altogether. Luckily for you, our experienced captain will be at your service while on board. He'll be happy to recommend where to set out, which bay to anchor in and which is the best beach for swimming. The captain knows the best spots for snorkelling and diving and will be happy to recommend the best restaurants, bars and shops. What if you're eating breakfast and suddenly feel like spending the day on a beach that you have all to yourselves? No problem, your captain will know exactly where to take you. His insider local tips are quite priceless!
5. The comfort of a luxurious yacht
A luxurious air-conditioned catamaran will take you on the honeymoon of your dreams. It offers ample space and accommodations comparable to a deluxe hotel. You will have a modern salon with a kitchenette and dining room at your disposal, as well as comfortable cabins and areas at the front, the bow and on the upper deck of the boat for relaxing and sun-bathing. You can enjoy the voyage and the amazing view from all of these spots while sipping your favourite drink and eating delicious food.
Photo credit: Shutterstock.com and Umbrella Yacht archive
Do you want to spend your honeymoon on a yacht? Write to us
!
Read more articles