Forget about boredom or What can you experience during a boat holiday?
You are considering of a holiday with friends or family on a yacht. And the question inexorably swirls in your head - won't I be bored in a few days? After all, I will be on the same ship for a week (or two), with the same people. What can I actually do during such a holiday, apart from resting and sunbathing? In our article today, we will show you that you can do a lot! The only thing that is not waiting for you is boredom.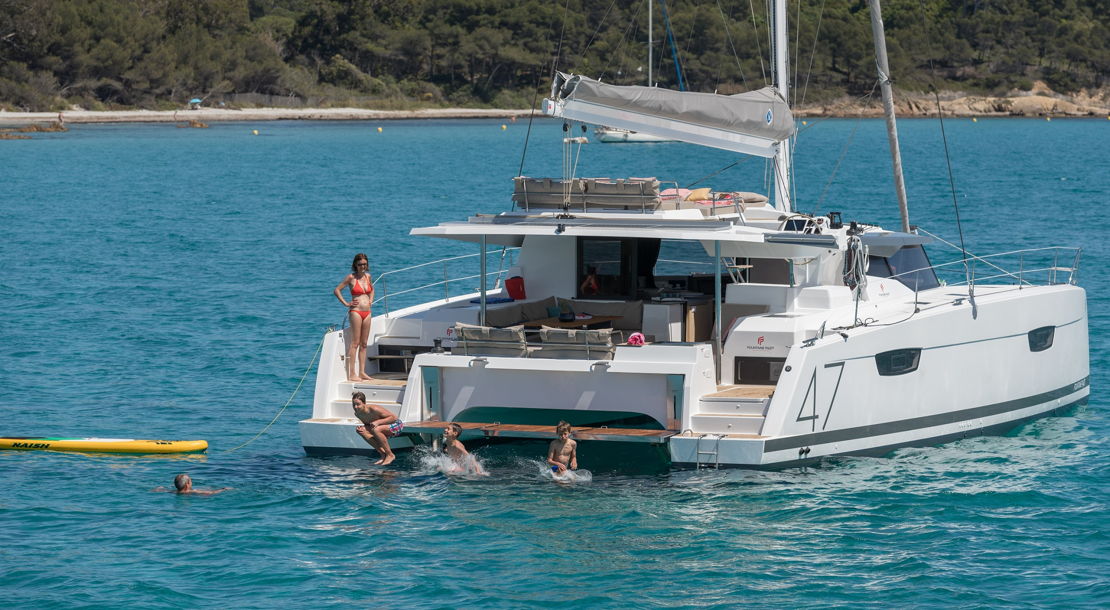 One of the biggest advantages of boating is freedom - you choose which islands you want to see, in which bay you anchor and on which beaches you will swim. Great helpers in this regard are our experienced captains, who have a lot of tips in stock for the most beautiful places. But you can do much more during a week-long yacht vacation.
Imagine starting the day with a yoga practice on the bow of the boat, during which a beautiful sunrise and the cry of seabirds will keep you company. Oh, I see, you do not practice yoga. So how about a morning run along the coast? You can spend the morning snorkeling or swimming in the beautiful bay, where, in addition to you, there will be only a few other yachtsmen. And when you stop having fun in it, you simply sail a little further, anchor at the other end of the island and take a boat to the beach. In a single day, you will get to know several magical places, each of which can be completely different!
Water toys for everyone
If you feel like diving, ask your captain about interesting diving spots in the area. In the meantime, the rest of your group can go snorkeling, for example. Not keen on underwater swimming? On our boats you will find equipment for various water sports.
You can try, for example, the increasingly popular paddleboard or subwing (submarine wing). But that's not the end of it! You can also have equipment for the popular windsurfing or water skiing, we also rent a seabob on our boats, with which you can explore the seabed. You can also rent a jet ski, which can be used to tow inflatable toys - such as a water ring or a banana. We can guarantee that children will never stop having fun being pulled on the ring behind a boat or scooter! And especially in beautiful bays, you will perfectly enjoy kayaking.
What do the islands offer?
You will also find many interesting places on the mainland. On some islands, it is ideal to rent a bike or scooter and explore them in all directions. One of good examples is La Dique, the most beautiful island of the Seychelles, where the Anse Union National Park can be found, which is not accessible by sea due to the coral reef.
On many islands (or their shores), you will find really beautiful national or marine parks. A typical example is Mljet. On this greenest of the Croatian islands there is a national park with caves, but mainly the Great and Small Lakes. After all, in the video you can see how our clients relax on board of the Umbrella Victoria catamaran moored in one of the beautiful Croatian bays!
Dolphins and turtles
Another popular activity that is offered while sailing on the sea is the observation of sea animals. And you don't have to dive at all! For example, watching dolphins or turtles is popular. Even rare giant land turtles live on the mentioned Seychelles islands, which are willing to be fed by you. And in the exotic Bahamian archipelago of Exuma, specifically on the island of Big Major Cay, local famous piglets will be happy to swim with you.
But true paradise for animal lovers are the waters of the Gulf of California, or the Sea of Cortez, as it is nicknamed. The bay, which Jacques-Yves Cousteau called the "aquarium of the world," is home to more than 40 percent of all marine mammals and cetaceans. Here you can meet dolphins, sea lions, humpback whales, giant flounders, gray flounders or California porpoises.
And if after a day spent watching animals you think you want to change into human society, all you need to do is spend the night in the marina, choose the nicest restaurant or bar, and enjoy a great dinner (or even a party)!
Fun on board
But even if you don't want to leave the board one day, you won't be bored. You can, for example, catch fish for lunch. Or ask the captain to teach you to sail and operate the ship. And while you get acquainted with the sails, children can play pirates or take a boat ride.
In the afternoon, you can enjoy a barbecue (if you don't catch anything, the fresh seafood markets won't leave you in the lurch), which can go smoothly to the evening party on board. You will see that after a week of sailing on the boat, you will feel that you would repeat such a holiday straightaway!
Photo and video: Umbrella Yacht archive and Shutterstock.com
Do you want to go on holiday on a boat? Write to us, we will be happy to arrange everything for you!
Read more articles