Lefkada: Discover the most beautiful beaches of Greece!
We must warn you right away - you can easily become addicted to this island! There are several reasons. Firstly, there are not as many tourists as on other Greek islands. Then there is the fascinating combination of green vegetation, steep white rocks and turquoise sea. And finally the main thing - the local beaches are among the most beautiful in all of Greece. In the Ionian Sea, you will also enjoy a beautiful Indian summer even in October!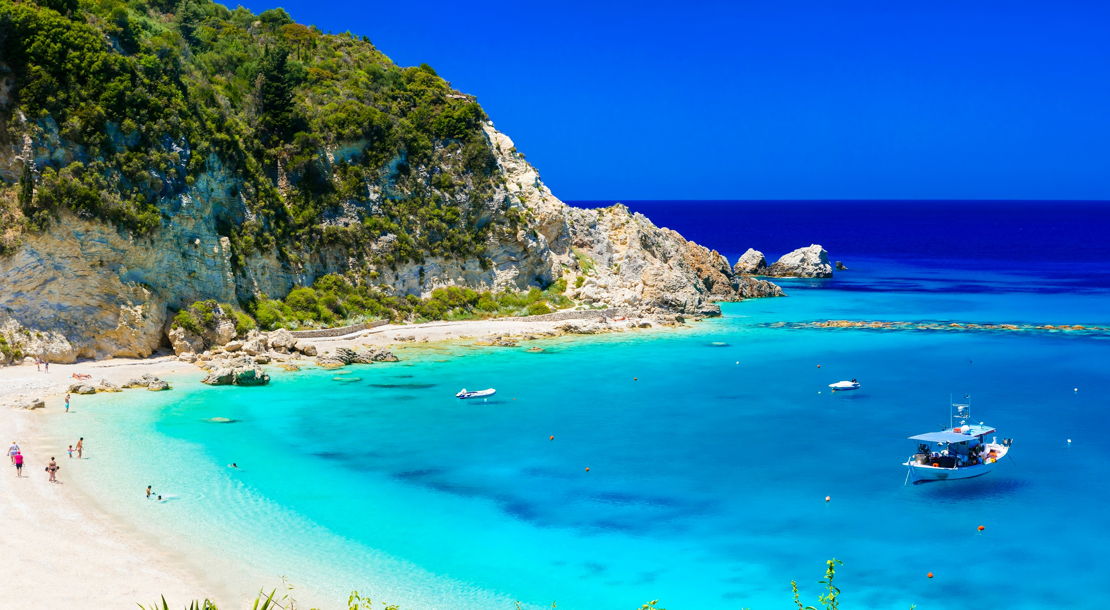 In the 1960s, the magic of this island also attracted the famous shipowner and billionaire Aristotle Onassis, who even bought the island of Skorpios, which is within sight of the town of Nidri, and built a summer residence there. The island is still private, but you can sail up to it by boat and see it at least from the deck.
Lefkada is a mountainous island, which is very fertile due to the rich rainfall. While the hinterland consists of mountains and valleys, on the coast you can admire limestone and sandstone cliffs steeply descending into the sea. And it is these rocks that are considered to be the cause of the famous turquoise color of the local sea.
Oh, those beaches!
The beaches on Lefkada are long, covered with sand or small pebbles and washed by crystal clear sea. Some of them can be reached only by boat, or by steep paths from the inland. And they are so beautiful that you can regularly find them in various lists of the top beaches in the world. For example, Porto Katsiki in the south of the island once reached the title of the eighth most beautiful beach on the planet. It measures "only" 300 meters in length, so it is sometimes quite crowded, but it is definitely worth a visit. Just like another magnificent beach, Egremni, situated a little further north.
Vassiliki Beach is also famous in the south of the island, where windsurfing events or catamaran races are often held. By the way, thanks to the great conditions for windsurfing, the singer Janek Ledecký, who regularly comes here with his family, also fell in love with Lefkada. And with a list of beaches that should not escape your attention, we could go on for a long time. So at least briefly - Milos, Gyra, Kathisma, Pefkoulia…
Stop in Nidri!
If you prefer the beaches where it lives, try the one near the town of Nidri on the east side of the island. You will find cafes, restaurants and bars there and lots of other fun options. That's why this place is perfect for families with children. In addition, you can make your afternoon in Nidri even more remarkable with a pleasant walk to the local freshwater waterfall. It is only a few minutes walk from the town, in addition, the path leads to a pleasant pine grove, and the reward can be swimming in a beautifully clean and especially cold lake.
And it is also worth noting the island of Meganisi, which you will find not far from Nidri (it also includes the aforementioned Skorpios and another tiny isle Sparti). According to many, it is an ideal honeymoon destination. The picturesque towns of Spartochori, Vathy and Katomeri are full of romantic nooks, beautiful beaches and traditional taverns that serve great seafood dishes. There are also several caves.
Tradition and good food
The towns and villages in Lefkada have retained their traditional Mediterranean character also because local regulations restrict the construction of tall buildings. In addition, in the inland you can still meet the locals in the traditional clothes that have been worn here for generations. And even today, good old donkeys take care of transport here!
As elsewhere in Greece, great food and wine await you in Lefkada, for example, you can buy delicious olive oil. And how to travel to this charming part of Greece? On our website you can choose from a wide range of sailboats and catamarans. We will also be happy to help you compile a travel itinerary so that you can really make the most of this picturesque place!
Photos: Shutterstock.com
Do you want to go to Greece with us? Write us!
Read more articles