The Entire World in a Single Country Come with us to Madagascar!
A unique island where you'll see plants and animals that you can't see anywhere else in the world. A place that prides itself on its breathtaking beaches and fantastic snorkelling and diving opportunities. Let us introduce magical Madagascar, our new destination where we'd like to take you in 2019!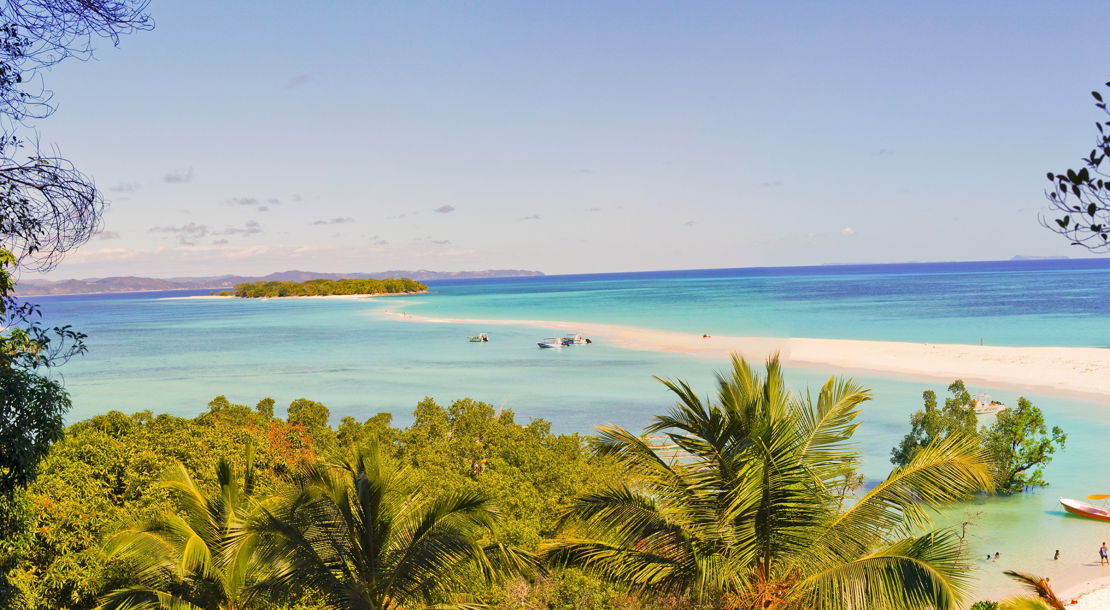 This place is like no other corner of the world that you have seen. Madagascar is the fourth largest island in the world and used to be a part of the African continent. When it broke away about 90 million years ago, a unique environment was created here and continued to develop in absolute isolation. About 90% of all local plants and animals are endemic, meaning they do not exist anywhere else in the world. Madagascar is home to many endangered species of animals including about 20 different types of lemurs thanks to an elaborate environmental protection system.
Madagascar boasts a truly eclectic natural environment. You can see tall mountains, rainforests, white sandy beaches and famous baobabs. What's more, it is the ideal spot for snorkelling and diving. It's no accident that this island in the Indian ocean is often called the eighth continent. About 30 islands lie along Madagascar's northern coast. Let us introduce four of the most interesting ones to you now!
Nosy Be Island
Nosy Be is the most popular tourist destination in Madagascar. It has an airport and is the starting point for yacht trips. You realize why it's called the scented island as soon as you land. Intoxicating aromas like vanilla, ylang-ylang, cinnamon and coffee fill the air. Before you get on board, take a few hours to explore this beautiful island and its nature. Visit the Lakobe Special Reserve, which protects the remains of the tropical rainforest -- the home of black lemurs. Before you set sail, don't miss the opportunity to visit the famed Andilana white sandy beach where you can swim and snorkel in the bright azure sea!
Nosy Iranja Island
This pair of islands called Nosy Iranja Be and Nosy Iranja Kely connected by a narrow sand belt are nicknamed Turtle island. You'll find a natural reservation here that allows local hawksbill sea turtles to lay their eggs on the beach. You can see the turtles for yourself at the reservation. There are also beautiful coral reefs where you can snorkel, dive and watch hundreds of colourful fish, stingrays and whales. It's the perfect spot for blue whale watching. When you head inland, lemurs will welcome you in large numbers. We certainly recommend a trip to the jungle, where wild nature awaits you offering many sounds and noises that you can only hear in a tropical rainforest. If you prefer an active holiday, try kayaking or windsurfing!
Nosy Mitsio Island
The Mitsio island lies about 55 km north-east of Nosy Be and provides visitors a wonderful opportunity to observe life under the sea. Sea turtles, dolphins, manta rays and colourful fish roam along the island's reefs. The only inhibited island is Nosy Mitsio and is surrounded by the beautiful sea and white sandy beaches speckled with palm trees. You can reach the island by boat and then you can fully take in the peaceful atmosphere, where animals noises and the sound of the lapping waves are the only thing you'll hear. You can spice up your beautiful tropical day spent on the local beaches by visiting the small island of Tsarabanjina and the villages of Antakarana and Akalava, where the locals will be happy to welcome you.
Nosy Tanikely Island
If you love diving than you have to visit this island! It is a protected marine reserve surrounded by a colourful coral reef, which is home to a large number of fish and other sea animals including large sea turtles. Take a walk along the beach through the jungle to the lighthouse; a spectacular view will be your reward! Many different lemurs live on this island including a pair of black lemurs who were transplanted here in an effort to increase their numbers. You can see panther chameleons here, as well as hermit crabs and several colonies of megabats. The island is a nature reserve so no camping, fishing or picnicking is allowed here. You can, however, arrange for a picnic on the beach with the local guides who will be happy to arrange a local food tasting including rice, fresh fish and lobster.
Holiday Aboard Lagoon 39
You can set out along Madagascar's coast on a comfortable catamaran, the Lagoon 39, which accommodates up to 12 people. It is ideal for a family holiday as well as for a group of friends or company teambuilding events. There are 4 double-bed cabins, 2 single cabins at the bow as well as 2 single cabins generally intended for the captain and the hostess. If decide to set out without a crew (you can also hire this boat as a bareboat charter), then of course guests also have these cabins at their disposal. There are a total of four bathrooms and a well-lit parlour with a dining area and a fully-equipped kitchenette. You can relax outside at the rear of the boat as well as on the tanning deck at the bow of the yacht.
Photo credit: Shutterstock.com
Would you like to go to Madagascar with us? Write to us!
Read more articles